DINE YOUR WAY
AT WESTMONT LIVING
ENJOY WHAT YOU WANT, WHEN YOU WANT.
What's cookin'? Just open the menu and take a look. Westmont Living's flexible dining program was created to fit your lifestyle, and your own individual great taste.
Enjoy fresh, healthy choices that are always in-season. From new culinary creations to favorite down-home classics, all served throughout the day in an elegant, comfortable, restaurant-style environment.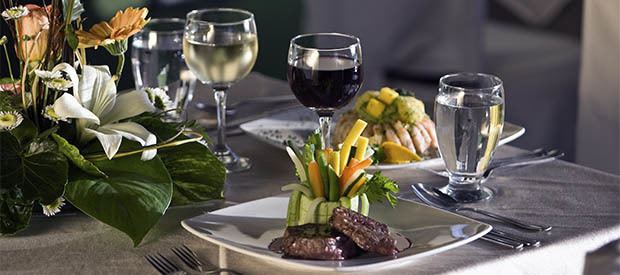 LUNCH
Featured Entrees*
Almond Crusted Chicken
Oven-baked chicken breast coated with almonds then finished with a honey mustard sauce
Homemade Spaghetti
Spaghetti topped with marinara sauce and Italian sausage
Walnut Chicken Salad
Our blend of white-meat chicken salad with golden raisins, green apples & chopped walnuts over a mixed green salad with balsamic dressing, tomatoes, cucumbers & sliced onion
Classic Burger
Angus Beef with cheddar cheese served with lettuce, tomato, and onion
Accompaniments
A blend of fresh vegetables
Desserts
Chocolate Parfait
Assorted fresh fruit & berries
* Actual menus will vary. We invite you to share your comments and menu ideas with us.
DINNER
Featured Entrees*
Westmont Fish Tacos
Grilled Mahi Mahi, cilantro-avocado sauce, cabbage & tomato wrapped in corn tortillas with chipotle black beans & fresh papaya salsa
Cheese Ravioli
Cheese filled pasta shells with an Italian marinara sauce
Grilled Avocado & Tomato Salad
Flash grilled avocado, vine ripened tomatoes & thin sliced red onion drizzled with basil pesto
Club Sandwich
Turkey breast, applewood smoked bacon, crisp romaine lettuce, and heirloom tomatoes
Accompaniments
A blend of fresh vegetables
Desserts
Ice cream
Assorted fresh fruit & berries